About Sugar Loafin Campground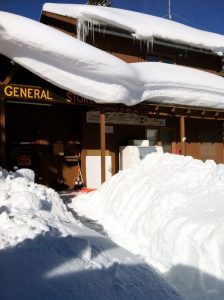 Sugar Loafin' RV Campground was opened by Edith and Aldo Seppi the summer of 1967. It has always been a family owned and operated business. We have always tried to treat our guests with kindness and respect and have met many wonderful individuals and families over the years.
The camping industry has changed a lot since 1967. The size and complexity of camping units has increased dramatically, even tent sizes have increased. Fortunately, Edith and Aldo tried to give our guests as much room as possible as they developed the campground so our sites are still able to accommodate the rigs of today's campers.
Edith ran Sugar Loafin' for many years after Aldo's passing but at 82 years-young she decided to retire and handed the operation over to her son Don.
Having been raised around Sugar Loafin' Don was able to step in and continue the operation with a fairly seamless transition. He was well aware of the passion Edith had for Sugar Loafin' and actually developed some of that same love and respect for the business.
We still hold customer satisfaction as our highest priority and do our best to provide our guests with a great Sugar Loafin' experience.
In truth our location makes that job easier. We are located in a high mountain valley and surrounded by 13,000' and 14,000' peaks. We have clean air, clear starry nights and many recreational activities surrounding us.
You can climb the two highest peaks in Colorado, drive the Top of the Rockies National Scenic Byway, fish in gold medal trout streams or take a step back in time visiting historic Leadville.
We work hard to continue the legacy of Sugar Loafin' from sparkling clean shower and restroom facilities, to our best customer service and just a heart-felt "Hi, how are you?"
We hope to add to your vacation travels and give you a relaxing and enjoyable stay.
We would love to have you as our guest,
The staff at Sugar Loafin'
Weather:
Our weather is generally ideal during the day—temperatures are rarely above 80 degrees. Add sparkling water, fields of wildflowers and a fine campground and we think you will have a great vacation.
Sugar Loafin' Area Information Links